My Account
22 Feb 2022

1 Minute to read
My Account
Updated on 22 Feb 2022

1 Minute to read
---
The My Account menu allows you to change your personal account settings, and is accessible from the dropdown in the upper right corner of most screens.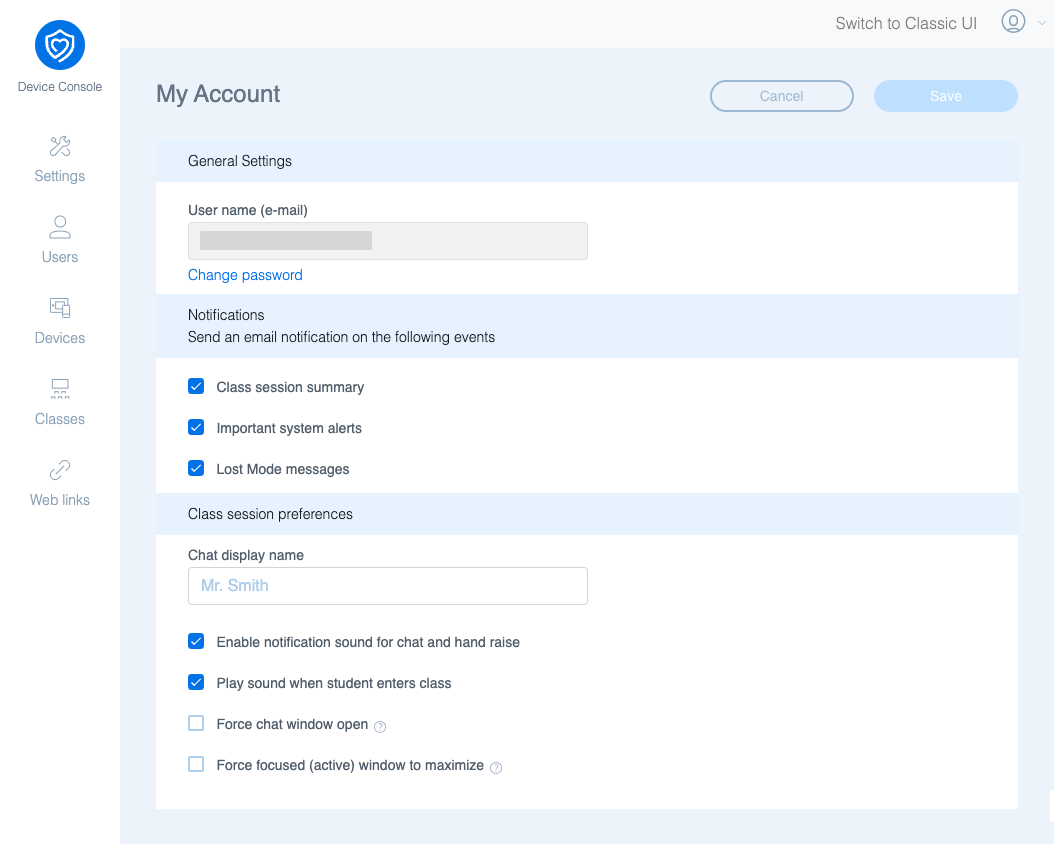 General Settings
A new password can be set by clicking Change password. Enter your new password twice, then click Save.
Notifications
| Setting | Description |
| --- | --- |
| Class session summary | Each teacher of a class received a session summary email when a class session ends. Use this setting to enable or disable the email summary. |
| Important system alerts | This option is availble only to organization admins and enables or disabled email alerts on system events. |
| Lost Mode Mesages | This setting is available only to administrators. It determines whether or not an email alert is send when a device previously put into Lost Mode comes back online. |
Class session preferences
| Setting | Description |
| --- | --- |
| Chat display name | This setting is used to change the display name of the teacher that students see in the student chat window |
| Enable notification sound for chat and hand raise | When enabled, an alert sound will play when a student sends a chat message or uses the hand raise feature. This is particularly useful during remote teaching. |
| Play sound when student enters class | When enbled, a doorbell sound notification will play on the teacher's device when a student in an active class session comes online. This is useful during remote teaching when teachers are online for an extended period of time and students "drop in" as needed. |
| Force chat window open | When enabled, the chat window on the student device will be forced open when the teacher sends a chat message, rather than just displaying a glowing chat icon and waiting for the student to open it. |
| Force focused (active) window to maximize | This option automatically forces the currently active window on the student's Chromebook to maximize to full screen. This prevents side-by side windows and can help with keeping students focused on a single site at a time. It can also help prevent students from leaving a window to the side with a video they want to watch (YouTube, Netflix, etc.) while leaving their schoolwork in a main focused window that the teacher sees in thumbnail view. |
---
Was this article helpful?
---
What's Next